We are located in the geographic center of Asturias.
You will find us on the slope of Mount Naranco, in Fitoria de Arriba, a rural area 1.5 km from the center of Oviedo, capital of the Principality of Asturias and the geographic center of the region.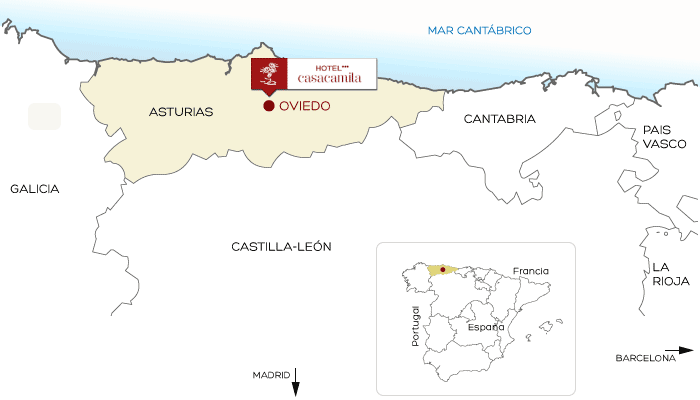 Thanks to the privileged location of the hotel (geographic center of Asturias), our customers can visit any point of interest in the region without making large movements, as well as enjoy the attractions and services offered by the city of Oviedo.
| Latitude | Longitude |
| --- | --- |
| 43,3846 | -5,8430 |
| 43º 23′ 4.75″ N | 5º 50′ 35″ W |
BE CAREFUL, it is not advisable to put the coordinates of the hotel as a destination in your browser since normally these choose routes that are not the most appropriate.

Read the information we give you about how to get to the hotel
How to reach the hotel
... by car

Beware of the navigator

There are several ways to get to us and we have found that if the browser is asked for the hotel as a destination, without more, the proposed routes are usually not the simplest or the shortest.

NO

Destination:

Hotel Casa Camila (Fitoria)

The solution is very simple: set Palmira Villa Streetspan> in Oviedo as your destination and once there, look for the hotel.
This way it will get the most suitable route.

YES

Destination 1:

Palmira Villa Street (Oviedo)

Destination 2:

Hotel Casa Camila (Fitoria)

From Palmira Villa Street you will go through the streets Evaristo Valle, Eugenio Tamayo and Avenida de Pando.

Ascend without deviating for 1.5 km. At 600m from the hotel there is a junction where the appropriate exit is signposted.

When you see the big signal of the hotel you will have the parking on the left and the entrance to the hotel on the right.

In any case, do not hesitate to contact us with any questions or difficulties that may arise.

... by bus

Virtually all buses that arrive in the city have their final stop at the Bus Station, in Pepe Cosmen Street.

From the station the most comfortable option is to take a taxi. It's a short journey.

... by train

The Train Station in Oviedo is at the northern end of Uria Street, the city's central street.

At the station you can rent a car (see access instructions by car) or ask for a taxi. It's a short journey.